Some secrets take us to the edge... and hopefully the movie will. Mel Gibson returns to a leading role in the upcoming action flick Edge of Darkness. Where's he been for so long? It's as if he was under the entire darkness blanket for the past few years, or as if the aliens actually "got him" in Signs!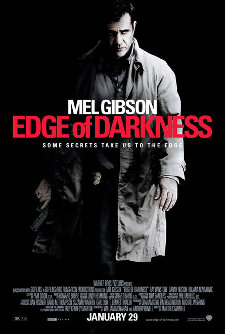 Well truth be told, he's actually been working on this film right here in Massachusetts! Many surrounding towns were used for the filming as were a number of locations in Boston itself! I'm actually looking forward to seeing my South Station train stop on the big screen in this movie.
Edge of Darkness is set to be released January 29th, which is soon! It must be because the number of commercials I'm seeing for the movie are growing daily. Gibson plays a "bad-ass" investigating his daughter's death and of course, there are twists and turns that follow. It looks intense! It also looks like there is a car chase scene in some Big Dig tunnels below Boston... that the best idea? Anyway, the movie is rated R and there is a trailer here from Warner Bros. This is the first real Boston movie of 2010, I really hope it's good!